Welcome to AC Home Inspections.
The all American Dream, home ownership! Don't let that dream become a nightmare. Become a well informed buyer. What may not be visible to the untrained eye won't get past A C Home Inspection. Even newly constructed homes can harbor costly mistakes. Let us help you make your dream come true.
Your home is probably the greatest purchase you will ever make. As a professional member of the International Association of Certified Home Inspectors, I urge you to protect your investment and your family by hiring me. I'm proud to bring my expertise to each inspection I perform, and I will do my best job for you.
National Association of Certified Home Inspectors & Professional Mold Inspection Institute Certified
Serving New Mexico in the following areas with professional home and mold inspections.
Albuquerque, Rio Rancho, Edgewood, Moriarty, Tijeras, Bernalillo, East Mountain & Monzano Mountain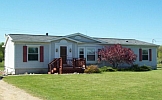 If you are selling or buying a manufactured home, then most likely a foundation certification will be required. For all FHA and VA loans, an engineer's foundation certification is required, which states that the home is placed on a permanent foundation that complies with the "HUD Permanent Foundation Guide for Manufactured Homes", dated 1996 by the US Department of Housing and Urban Development (HUD).

We have partnered with the engineers at Foundation Certifications to provide a turn-key foundation certification service to you. You may place your order online by going to http://www.FoundationCerts.com/order.
I offer personal consultations and can schedule a home inspection for you today.
Albert Chavez
Certified Home Inspector
Certified Mold Inspector
Certified Infrared Inspector
Contact Form
Contact us using this form and we'll get back to you within 1 business day. For a quicker response, please give us a call.
---
New Mexico Facts and Trivia:
1/4 of New Mexico is forested, and the state has 7 National Forests including the Nation's largest, the 3.3 million acre Gila National Forest which includes the Gila Wilderness.
---
---